Cindy Russo named President at Trumbull Regional Medical Center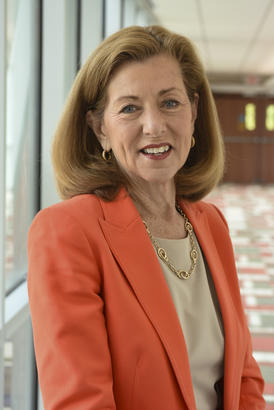 Trumbull Regional Medical Center is pleased to announce that Cindy Russo, DHA, MS, BSN, FACHE, has been named President of the hospital. Cindy has served as the Chief Operating Officer of the Ohio and Pennsylvania Region at Steward Health Care since February 2021 and has over 20 years of experience in hospital and health care leadership.
Before joining the Steward Health Care team, she served in several leadership positions with Central Maine Healthcare in Lewiston, ME, including Interim President and Chief Operating Officer. In addition, she previously served as President and Chief Administrative Officer of Baystate Franklin Medical Center in Greenfield, MA.
Cindy has broad clinical and operational experience in various hospital and health care settings. She spent most of her career at Hartford Healthcare in Meriden, CT, eventually rising to Vice President, Patient Care Services/Chief Nursing Officer and Sr VP, Operations at MidState Medical Center.
A graduate of Western Connecticut State University in Danbury, with a BS in Nursing, Cindy received a MS in Management with a concentration in Healthcare Administration from the Hartford Graduate Center and earned her Doctorate in Health Administration at Capella University.
"Cindy prides herself on having exceptional interpersonal skills that foster strong community partnerships and provider relationships" said Robert Rogalski, President, OH/PA Region. "I am confident that her extensive knowledge and expertise will guide in further development and growth at Trumbull Regional Medical Center" said Rogalski.
Cindy officially started in this new role on July 1, 2022.